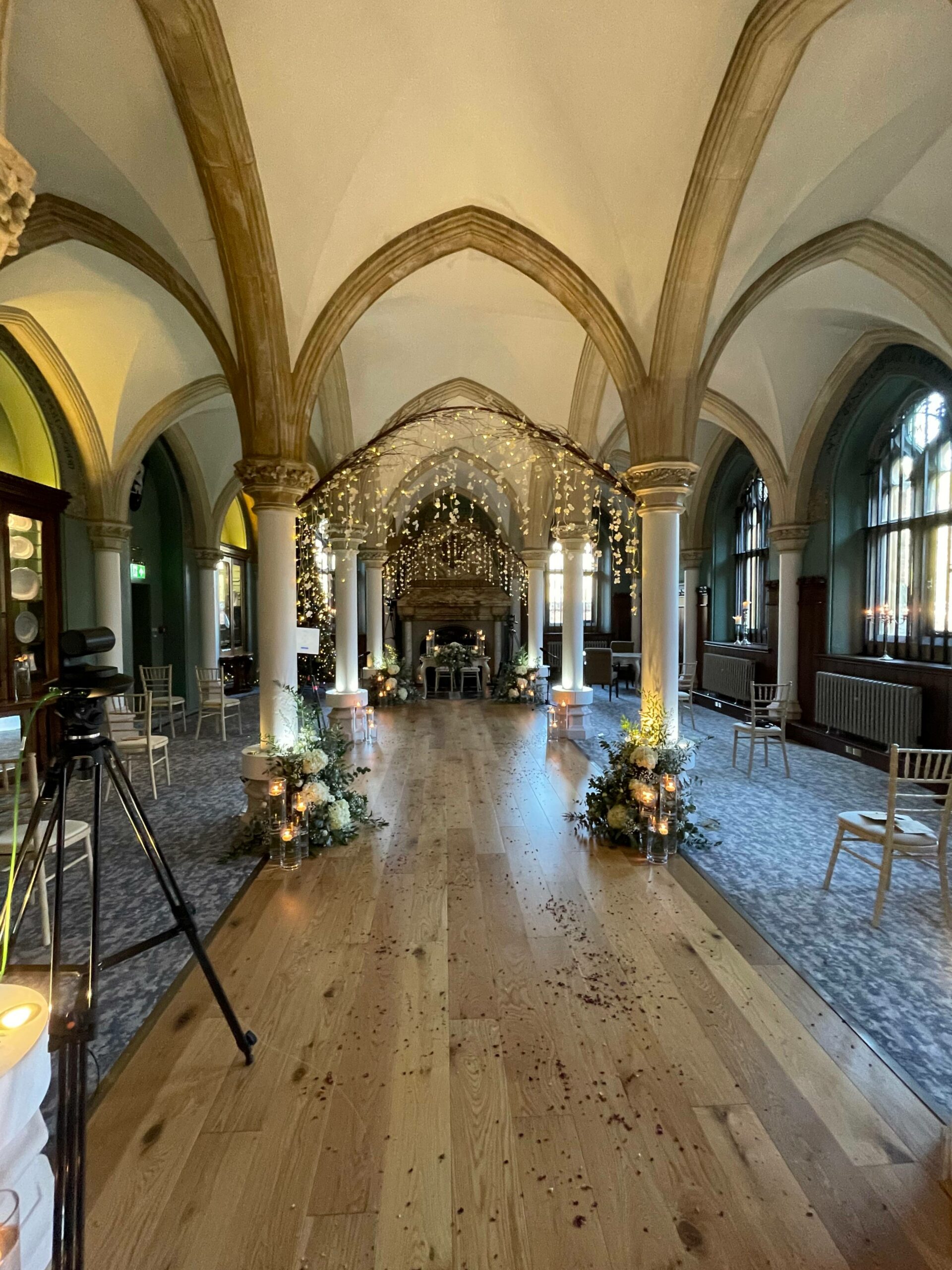 WEDDING LIVE STREAMING SERVICES
Wessex Live TV offer live streaming options for Weddings & Civil Ceremony Services. Due to the current COVID restrictions many family members or relatives can't always attend your Wedding ceremony. Our Live Streaming & Webcasting service can provide a great alternative allowing those who are unable to attend the opportunity to participate and watch your special day for themselves in real time, over the internet from anywhere in the world.
We provide high quality, broadcast grade cameras along with bonded mobile internet that means we can live-stream from almost any location, such as churches, registry offices and hotels. Our kit is extremely mobile allowing us to connect families whatever the distance and location.
Wedding Live Webcasting Service Serving the UK including London, Manchester, Leeds, Birmingham, Norwich & Bristol
Very sensitive and professional service, from start to finish!
Dear Alex
Thank you so much for recording and livestreaming the funeral service of my Dad on 11th April 2022. The experience from calling your office, booking your production and experiencing live-streaming, right through to billing made this funeral experience very memorable in a positive way. Many people from overseas have made contact to say how impressed they were. And I'm pleased that I was able to leisurely view the service again and reflect. Here are some other comments:
(1) Great to have the time difference automatically converted for overseas countries.
(2) Very sensitive and appropriate background music prior the Processional.
(3) Excellent camera zoom onto respective participants and the slide presentation.
(4) Very clear and good sound levels captured through the microphones.
(5) Clear and distinct images throughout.
(6) The atmosphere was captured.
(7) Great to be able to leave comments and receive a response from the family!
(8) No issues with video clarity or colours.
(9) Beautiful wide-angle view of the event.
(10) Very sensitive and professional service, from start to finish!
(11) I would definitely recommend Wessex Live TV to others seeking to livestream or record a special life event!
Wishing you well in the future!
Kind Regards
Yvonne
The recording and quality were excellent!
Dear Alex,
Thank you very much for live streaming my mothers funeral service around the world on Monday from Knook Church. We are so grateful and now others that missed it can see it in the next 3 months, amazing!
Along with the comments below the zoom, I have received the following:
"Thanks to Zoom, the recording and quality were excellent"
"The Zoom worked very well, the picture and sound were very clear"
"Zoom worked perfectly"
I felt duty bound to go and meet our family and friends afterwards but I hope you had a safe journey home.
Many thanks
Thank you so much
Dear Alex,
Thanks for all you did yesterday. My brother, sister-in-law and niece were all able to watch live, along with many other friends and family, and they really appreciated being able to do that.
It was so important to us that we would be able to stream the service, and you filmed it so well – thank you so much.
OUR WEDDING LIVE STREAMING PACKAGE
Our Wedding Live Streaming package offers multiple HD cameras setup around the venue to capture different views of your service. Our cameras are equipped with broadcast lenses so we can zoom the camera in to capture a clear image of the service. We provide multiple microphones to capture crystal clear audio from the Vicar / Registrar, Groom and any music.
Wedding Standard Package
Three Camera Live Stream
-
Multi-Camera Broadcast from Church or Hotel
2x Remotely Operated PTZ Cameras
1x Fixed Sony Full HD Cameras
Cameras Operated by Professional Cameraman / Engineer
4x Radio Mics to capture crystal clear audio
Ceremony Broadcast to Private Viewing Link
Reliable 4G Internet Connection to Broadcast Online
Personalised Holding Slide
Unlimited Viewers Worldwide
Streamed Video available on demand for 90 days with ability for you to download.
Request a Quote
Unlimited Viewers accessible Worldwide
Private page setup for your service - No need to install any software
Personalised Private Link with and a way for guest to leave messages
Recorded live stream available on demand for 90 days with a free download for you to keep
Streamed by own internet connection. Our 4G bonded Encoder uses multiple LTE mobile networks and local WiFi/LAN connections to create a powerful broadcast connection
Full HD Broadcast Cameras
Sennheiser Wireless Microphones for Crystal Clear Audio
Live Wedding streaming provides the opportunity to broadcast your special day in real time to your selected friends and family all over the world via the internet. During these challenging times its very common to live stream a wedding service so that relatives abroad or extended friends and family can can feel part of your special day.
A video live stream gives your friends & family the chance to be there from afar. Everything is set up over a secure video connection, and the viewer can watch the ceremony from any device including PCs and Laptops and all handheld devices like a smartphone or tablet. Once the service has taken place, the live stream can be watched back at a later date for those who have missed it.
Using the latest video streaming technology we can live stream from almost any location. We mainly utilise the 4G LTE Mobile networks to live stream the your wedding service. In instances where there is no mobile signal and no broadband connection we can stream using our Satellite Uplink Kit. This small satellite dish is setup outside where there is a clear view to the sky enabling a connection in the most remote locations.